anything but banana leaf

even if susan said that today is like the longest day of her life, ako naman feeling ko lately ang bilis bilis ng mga araw. ang bilis magweekend, ang bilis din matapos. wish ko lang talaga mas productive yung every day ko 'no...i don't bother to quantify what i do anymore, lalo lang nakakfrustrate pag nakitang mong laging below par ang mga natatapos mo.
anyway, last saturday, finally nagmeet ulit kami nina em, lynds, neds and tzai. well, si lizette lang kulang to complete the group. eh as always missing in action naman yun lagi. this time, meron daw dinner yung bagong team nya sa philam. okay. i just hope makasama sya next time. i was happy to be with them coz it's been, what, almost eight years nung nagkahiwalay tlaga kami?
so syempre kahit medyo i waited sa powerbooks, okay lang, sa cavite pa naman sila galing. twas late na when i learned na andun na rin pala si tzai with ciara. anyway, nasa bookstore naman ako, alam nyo naman how disoriented i become pag nasa ganung shop ako. kahit nga wala ng labasan eh. may sale pa sila ng books. it was raining cheap chicklits, pero i controlled my urge to buy, strict ang budget ko tsaka malakas ang feeling ko na makakantyawan ako na magtreat at tumama nga ang hinala ko no. :) so i bought only one and plan ko is to read it before watching
the woodsman
. check nyo na lang sa amazon pareho and you will understand bakit type ko sila pagsunurin. the title of the book is
when kambia elaine flew in from neptune
. napansin ko din, grabe ang discworld series/ terry pratchett books ngayon! at yung related discworld books, they like combined it in one book, one big book, with three stories each, and they were called
"the discworld omnibus".
astig. whew. kaso what do you expect from thick, hardbound books? correct, mahal sya. at after elfriede jelinek, i am firm na gusto ko tlaga ma-try basahin si
haruki murakami
! i browsed
norwegian wood
when i was in powerbooks ATC last year. then yung katabi kong guy sa plane to DC, he was reading
sputnik sweetheart
. at nakita ko mukhang complete naman sya sa powerbooks so i might go for it. kahit one lang, alam nyo naman ako.
so ang meeting na 3;30 pm at the most naging mga 4;30 na. okay lang, pinoy kami lahat, why bother to adjust? hehe. yun, konting asaran, tapos nagtuturuan kung saan pupunta (which is always the case), challenge kung pano ipronounce yung name ng restos, pagdeadma kay em kahit nagrereklamo sya na nakabukas na lahat ng pores nya kasi mainit...then finally nakadecide na magbwelo muna bago magdinner. we had crepes at cafe breton and of course dun na nag-take off ang pinakamasayang topic of conversation: former classmates and what has happened to them. super happy ako kahit ako nagbayad, hahahahaha! minsan ko lang naman makita mga etucap friends ko. :)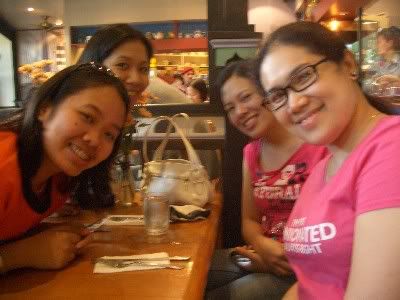 si tzai, neds, em and me. aww, si lynds at si ciara wala. see, naghot pink pa kami pareho ni em.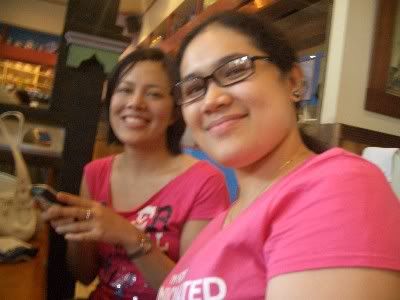 kami ni em. mukhang hiyang naman sya sa pagiging FA. sana mag-international flights na sya, para maiba na din yung scarves na nilalagay nya kay shakes. laki ng mukha ko, man.
em, me and lynds. hot pink at black.
then of all places, bakit ba namin naisip na dun sa basement tiangge ng greenbelt pumunta. wala lang, we idled an hour going round and round the small basement na wala namang nabili. just when we decided where to have dinner, hassle naman yung place, either reserved o mainit kasi yung tables na lang sa labas ang pwede, or closed pa. gumuho ang mga pag-asang masusunod ang gusto naming lahat. hay. so yun, we went back upstairs and settled for bubba gump. it was my first time there.
eto, since hindi tlaga first choice yung place, one decade bago maka-order ng food. eto ang version namin nun nina em and neds.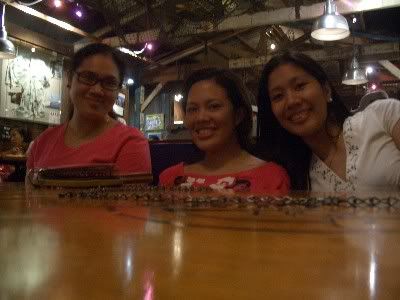 sige lang, smile smile lang, we do not know yet na we'll have a hard time choosing what to eat.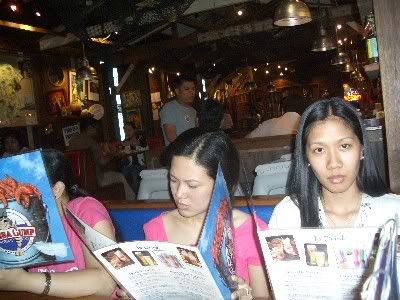 si neds syempre di pa sya makadecide kung titingin ba sya sa menu. si em nasa "active scrutiny mode" pa. ako...well, kunyari engrossed sa menu pero may katext ako nyan.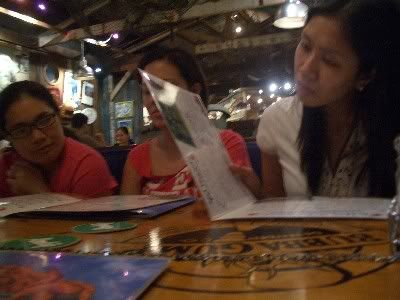 sige, hanap pa. basa pa. tipong memorized na yung nakasulat. yung items daw na madalas mong balikan kahit as a whole e undecided ka, yun daw ang gusto mo tlaga. kay em, yung lt. dan something something, paulit ulit sya. ako yung salmon with veggies. pero ang ending, hindi yun ang inorder namin. galeng no?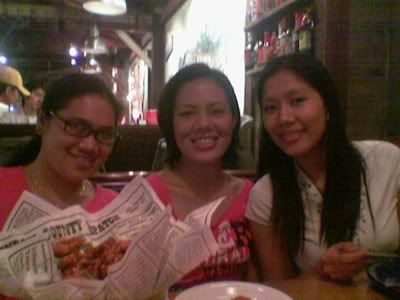 eto tapos na. okay naman yang appetizer na yan, those were chicken strips i think..and it's cajun-spiced, something that tzai and i have decided to avoid pero wa choice type nung iba eh.
bitin ba? sa ibang gabi na lang. am so sleepy na tlaga. bukas naman busy as a queen bee na naman ako. more pics sa next post. pati review ko wala pa. hay.