There is something about this day.
Little by little, I'm getting lazy again. Must be the weather. Yes, the weather changed, it's been gloomy even around 10 a.m., it would rain by 4, and by the time it gets back to its "it's hot" mode, the day is over. I'm in the house already. Useless.
Hayyyyy. Uwi na tayo.
Kasi naman, I thought Friday na kahapon. Our business closed early, a little after lunch, for the farewell program for our American officers departing Post. Actually, my team went there for the food. Late pa nga kami (and what's new, being at the far end of the building, we always get left behind. We can't complain though, they would just tell us na we're so paimportante, as if we were not informed that the party will start at 2 p.m. Hay.) So after the customary colleague-bashing and one fun game (I joined, and we won, yihee), we ate. It's as ordinary as many of our get-togethers, only this time we get to have it in the famous Ballroom. There were pictures taken, I want to share a few: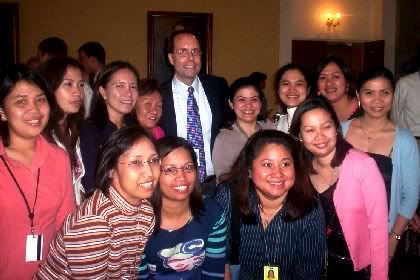 with our beloved Consul General. One of the nicest men alive in this galaxy. Variety of poses pa yan a.k.a. di alam where to look a.k.a. halatang sumabit lang kaya nagmamadali. Initially, Rachel and I thought of having our pic with CG eh ayun dami sumabit. Hehe. Hamo na, Rach.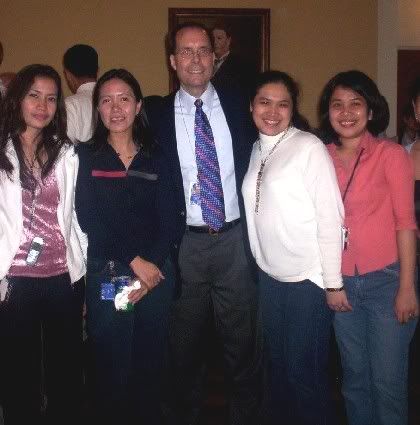 CG with my team minus Tita Beth. Si Tita kasi in the middle of the party bumalik ba naman sa office at nagtrabaho? Grabe, sipag. Or na-bore sya sa mga nangyari.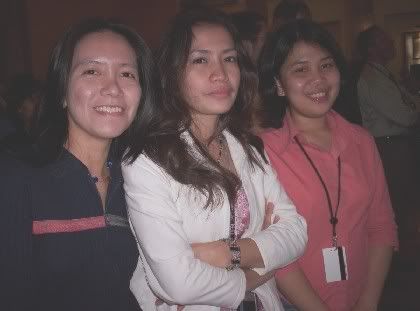 my sinister sisters. the women who make me want to come to the office everyday kahit not an iota of interest to work ang drama ko. Pictures can lie, they are more cunning and dangerous in person. Hehe. Lalo na yan si
E
(middle). Mas lalo ang misteryoso pero pang-Pulitzer Prize ang hirit na si
Sandy
(left)...na tinotolerate ang paggaya ng six-year old son nya kay Bo Bice.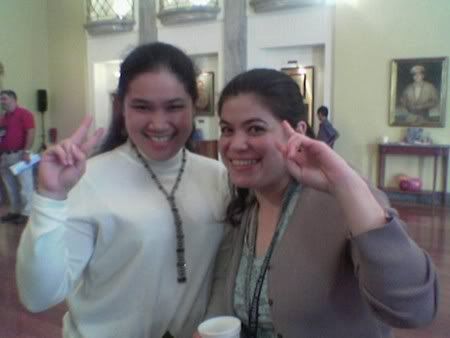 our office's version ng Olsen Twins. Hehe. Tama bang mapagkamalang kambal kami. Tita Miles tlaga. Yan ang mga pose na influence sa akin ni
Rachel
. Malugod nyang ipinagkatiwala ang pinakakaingatang complete cd set ng Meteor Garden 1 at Meteor Rain. Dahil din sa kanya kilala ko na si Lee Hom. In the next few months, pag nagpaalam ako para pumunta ng Taiwan, Hongkong o Japan para manood ng F4, you know who I'll be with....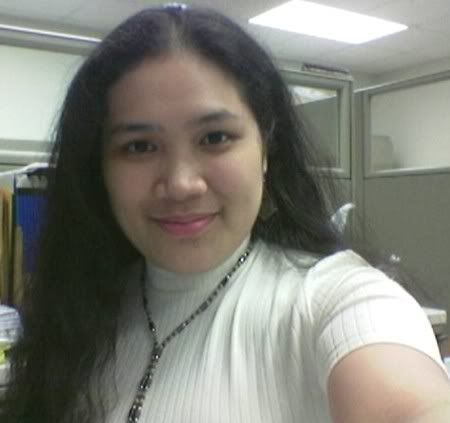 O eto. Si Valentina nung tame pa ang mga ahas.
Walking Embarrassment
The heavy downpour caught us in the middle of Roxas Boulevard. Syempre nung una kahit pademure ang lakad, it won't be so comfortable pag mabigat na yung lower part ng denim pants mo kasi basa na. At pati yung suede high heels mo eh basa na rin, sige lakad lang. Kasi when you're drenched in rainwater, it's the perfect excuse to buy a new pair of jeans and a pair of sandals. Sige, lakad. Eto na...palibhasa walang pera pangsosyal, we got Tita Beth to come with us kasi meron syang discount card sa Bench. Sukat, sukat. I bought one soft pants and two pairs of cool slippers. Sinuot ko na yung pants and slippers kasi di ko na ma-take yung itsura ko. Eto ngayon, habang nakapila sa cashier:
Me
(to the guy na naka-blue shirt at may spiky hair) Here's my pants and my shoes, eto yung tags, sinuot ko na yung bibilhin ko...
Guy
(points to the girl in front him, EH KASI HINDI PALA SYA SALES STAFF): Miss....
Me
(realizing my mistake): Ah ok...actually, KINUKUWENTO KO LANG SA'YO, ikaw naman (sabay smile)...
So, I paid na. We saw some of our officemates and we chatted for a while then nung palabas na, nag-beep yung sensor. BEEEEPP!! Lahat tinginan sa'kin. Syempre, ako, "Hoy, binayaran ko na 'to 'no??" then yun...ginawa ko yung isang purchase ko muna...(to the sensor)zhwing...silent...yung isa siguro..zwhing ulit...silent ulit...ah, baka yung sandals na suot ko...(stretches feet) zhwing...silent talaga...so it should be the pants I'm wearing. The sales staff was kind enough to tell me that they know I already paid, ang prob lang, magbibeep everytime I pass any sensor stand sa buong mall. Fine. So I went back to the fitting room, took the pants off, and there it was, the little barcode thingy stuck near the zipper. Hay. Big fuss.
Out of frustration, napakain tuloy ako. As in I feel I can get through my fruit diet, two days na lang eh, nag-guilty pleasure pa ako. Isang malaking plato ng carbonara. Alam nyo yung feeling na yun, you think na what you did or what happened was so embarrassing, pero ikaw lang pala nag-iisip nun. People who were there actually thought it was funny or when you parted, they eventually forgot about it, too. Pero no matter how much they tell you na it didn't matter, still, there's something that tugs you na
"Holy cow, nakakahiya!"
(Frankly, naghahanap lang ako ng superficial excuse kung bakit napakain ako ng madami kagabi. Halata ba?)
Hay.
Uwi na tayo.
~
For praises, violent reactions and everything in between, go
here
.
(I noticed that the entries are gone, I haven't figured out what the prob is, but just keep them coming. I love hearing from all of you.)