I tried so hard to be useful today. I feel I did well naman. My Mom managed to drag my ass out of the bed and get me out to buy the things I said I wanted to fix my stuff. It was pretty productive and I did get to finish some important stuff.

And I started another blog at Xanga!! How about that, eh? I am pretty excited to work my way out there..or maybe I am just thrilled by the simplicity of it..and the fact that I can manipulate the background colors and all, something that I can't do here (I actually can but I end up ruining the whole skin---hey..I'm such an html idiot, what do you say to that?). So before going there (is there a "loyalty sensor" of sorts here in Blogger?), I wanna share some pics from last week's meeting with my highschool friends, Em and Neds.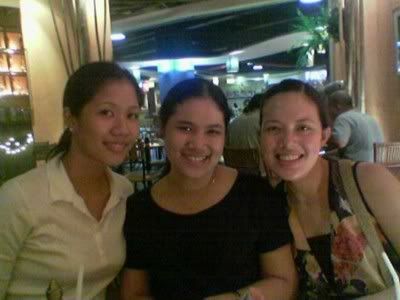 That's Neds (Anedyn), me and Em (Mzarriz). Too bad, Lyndsey, Portia and Lhizette were busy with other things, otherwise, the barkada would have been complete.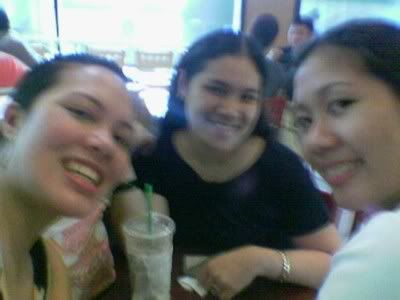 Blurry, blurry. This was taken after they actually came to the meeting place...after making me wait for an hour lang naman!! But it's okay coz I got to read a few chapters of The Unbearable...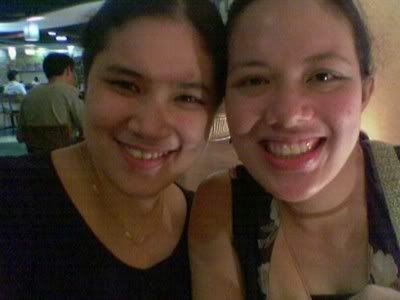 Em and me. Hahaha, Em's been complaining since the earliest days that her mouth is kinda big. Well, it is. Like when she smiles, it's obvious. Hahahaha!! Peace, Em!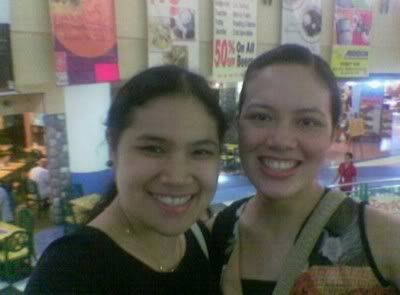 Pa-vanidosa sa escalator. Em is actually my highschool bestfriend. We had a rather interesting history but she's one of the very few people who knows me well. Before this shot, both of us, out of the blue, said, "O, picture naman!" Talk about telepathy.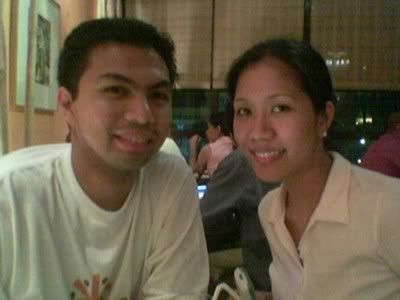 This is Neds and her boyfriend, Robert. Uhm, is it Robert? We just call him Papa R kasi!! Hahahahaha! He's a nice guy...and I am hoping that Ned's parents and sisters will finally like him. Hehe, dumaan lang yan sa Dencio's and we had a great time bashing Neds in front of him. Aliw!

There. You can check the xanga blog I made
here
. It's too plain, I know, but I find my profile pic a whole lotta neat. Wala lang!