enchantingly (semi) boring friday night
if anyone takes offense about my comment, it's your problem. i have to say that this year's pan-pacific appreciation party was boring. the theme did not enthusiastically match the attendees' spirits. eh bumabagyo ba naman. i appreciate the effort to dress up and all (special mention to robinhood, waheehee) but it's just off. last year was happier and livelier, to think that we're cramped for space then. well, they threw the party so i don't have the right to complain anymore. btw, let me tell you hindi ako nabusog. hahaha!!! i had a little strip of mahi-mahi, one piece of beef something, nuts, apple whatever and potato salad. after that, wala na. it's really so hard to be freaking sosyal. like you see "chorva chorva fondibelles" then you wonder what it is, yun pala, mixed nuts lang ang tinamaan ng magaling. hay.
highlights? camwhoring (which i didn't get to do much, damn), yung hula kay rachel (so happy for you!), rayan came (thank you!), at mga dance floor hoggers na laugh trip talaga. and oh, yung give-away na little boxes (i got orange) with discount stubs ata yun from crabtree & evelyn.
upon seeing the initial attendance of people, i thought the momentum's gonna pick up, especially after that gay performance and the belly dancing number. okay naman kaya lang di maappeal yung hostess-cum-singer-cum-raffle drawer. pati backup na taga-organ (haha), parang, "what the hell are you still doing there??!!"
ang bad 'no? but it's like that eh. people flocked the fortune tellers and massage booths kaya ayun, walang nagkainterest sa show proper. dagdagan pa ng nonstop ogling namin nina rayan at eiselle sa mga nasa dance floor (sasayaw ka ba ng 'i love the night life' ng may bitbit na bag?). poor them. eto pa si rayan ang salbahe dun sa sinabi ko lang yung place na ano...hahaha! you're kinda like those civil society people na ha. so mean talaga. hahahaha!!!
but with my share of laughter, okay na rin. at naka-skirt ako. ikaw ba naman masilat sa butas sa kalye, makakapag-jeans ka pa ba? hehe. regret ko lang, hindi ko na uli nakita si JM a.k.a robinhood. waheehee, alembong. ay hindi pala, may guest pala ako. uyyy, si rayan yon, yihee! hahaha! rach, peace ha. alam mo naman kung ano eh. remember, mag-mamasters pa ako sa economics para lang maging "deserving". hay, saan na ito papunta. effect ito ng screwdriver na pinang-BI ni watashi noime sa akin.
goodnight.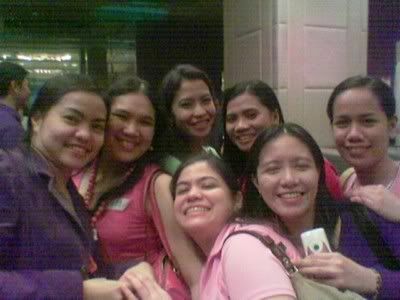 click the picture to view the whole album.