fish packers
here's what happened behind those pictures.
yesterday, julius ignatius camara (i love your name!) brought rachel (who brought me and eiselle) to the international job fair ("the most awaited international job fair" kyeme). you might ask, bakit kaming mga nasa work na namin would still take our chances with those? sinagot sya ng isang poster sa fair site: greener pastures. enough said.
to make the story of our short visit
short
, naretain sa aming apat ang isang job opening sa brunei (dun ba?), para maging fish packers. kailangan kasi may 1 year experience pa! so ano, enough na bang magsimula sa mga palengke??? apart from that, yung medyo serious, a 5-star hotel will open in november sa Cook Islands. so the placement was for pioneers to start the operations going. appealing ano? pati yung sa Maldives. imagine, pag dun ka mag-work, all-year round ang tan mo! gee.
dala ang thought of being a fish packer, we proceeded to the food expo at the WTC. no entrance fee but you have to have a company of sorts coz it's not just food, but also an equipment expo. we've been planning to put up this party planning business thus the name PARTY DOCTORS. as co-owners, okay na kami ni eiselle. nagkaroon pa kami ng consultant, si rachel. in truth, kiber ba sa food at equipment expo? pumunta lang kami doon para sa free tasting. hahaha!!!
i saw my college friend mikko manning the booth of san miguel corporation. cutey pa rin si mikko boy! kaso napapagod ata pag brands ang hawak. after that expo, punta naman sila sa cebu and wherever pa. 6 months pa lang daw sya doon after he left summit media. di ko naman naitanong kung gusto ba nyang mag-fish packer for a change.
we made the rounds, taste taste, bought cheeses (di ko masakyan ang taste ni rach sa keso, hahahaha) and basically tried anything na pwedeng magpa-appeal sa taste buds. we stopped by several packing equipments, na hindi makakatulong sa party doctors, pero makakatulong para maging fish packers.
so far nabusog naman kami. hahaha!!! then before we leave, eiselle saw scooters or bikes (whatever) and got interested. for her babies daw, yung mga errands lang within the vicinity. kami ni rach deadma lang sa tbi, contemplating the scenario of using it pagpasok sa office. grabe, para kaming loka kakatawa na ewan if naooffend yung may-ari. eh kasi imagine mo what if naka-ganun ka pagpasok sa office...
rachel:
iwas traffic pero lahat ng sasakyan nasa likod mo...
judith:
naka-office attire ka pa nun ha...
rachel:
tapos may helmet. kumakaway kaway...tapos may nakita kang kakilala mo...
both:
(waving) hiiiii!!!!!!
judith:
ano ba ang battery nito, double A?
rachel:
o pwedeng yung battery ng sasakyan pero lagi kang naka-backpack...
both:
tapos ganito...(waving) hi!!!!!!!!
through all of that, na kami ni rachel halos ilabas na namin yung nakain namin kakatawa, si eiselle kina-career ang pakikinegotiate sa presyo ng bikes. paglabas, may maliliit na stalls din selling clothes and accessories...
eiselle:
ay gusto ko yan (ponchos)...
judith:
papasok ka ng nakaganyan? ganyan LANG ha?
rachel:
tapos nakasakay ka sa bike....
judith and rachel:
(waving) hiiiii!!!!!!
so pag-uwi, ang layo ng nilakad namin ha. inisip ko kung mararanasan ko ba ito if i decide to be a fish packer. tapos nung nasa jeep na kami ni rachel papuntang prc, di ko napigil matawa dun sa fifty-ish na babae kasi yung bag nya studded ng fake silver thingie that spelled WILD. nagets naman ni rach kaya para di mahalata nung babae kunyari na lang natatawa pa ako dun sa bike. ang awkward nung WILD na bag para sa kanya. ano ba yon! buti na lang tmigil din ako, baka mamaya makarma ako. baka mamya sya pala magiging boss ko sa pagiging fish packer.
setting the joke aside, and stating the fact that it is no laughing matter to be a fish packer, we're really seeking for greener pastures abroad. we still take pride in the work that we do but obviously, we want something more. hindi naman masama ang mag-aim for something better for yourself, regardless if you're married with children o single pa lang. here's to more fish packing and job hunting abroad!
the pics:
medyo mahina ang power ng camwhoring ko kagabi kaya eto lang.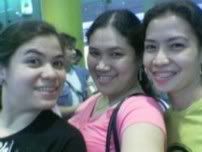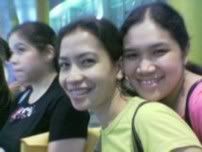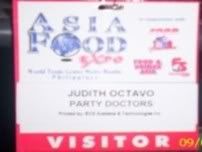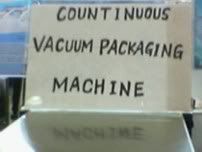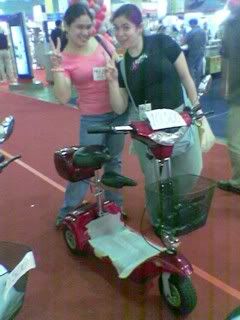 ang party doctors, rachel-judie-eiselle; party doctors pa din; my name tag na sana pala Judith Roxas pinalagay ko (oops dapat ata Judith A. na); ang machine na "nagbibilang habang tuloy-tuloy na nagpapack"; rach and i goofing around habang seryosong kinunan ni eiselle ang bike to show it to her husband.