gracie's night
i just can't think of a more apt title! :) last night was good, not that super fun though, coz apparently they all got tired during the day so there wasn't much energy left. it kinda picked up around midnight, if not for my mom who kept on ringing me to go home. i suggested that
gracie
stay with them coz
E
's so dead sleepy na rin. eh kaso they all decided to call it a night.
i was on leave but i got to the office a little after lunch para makigulo. hehe. nah, it's actually more of catching up on my supervisor's instrustions coz heck, i'll be in charge next week! brrr! anyhoo, i learnt that kats and sandy wouldn't go so
sandy
got
rachel
and
gracie
to come. i crossed over their department and made senseless chika...buti na lang yung supervisor nila
rachel
was also busy chatting. hahahaha!!! so yun,
rachel
wasn't sure coz her sister might call her daw that night. around 6 pm, i learned that joy and erwin were asked to join na rin pala.
we got to the hotel a little after 7. maybe kasi it's a friday night so people perhaps decided to go out and the 25th floor was practically left to ourselves. we had dinner while watching CNN. a few talks here and there about the devastation of hurricane katrina, after which alfonso put Crash on the player. it was a good movie. i got into a good discussion with alfonso about racism and parenthood. he's nice.
so eto na. hehe. this night is actually more for
gracie
eh. coz we go out with these guys for lunch before and we get to chat when we bump into each other within the building. ang goal is to set her up with
mike
. mamaya na yung height ng gabing ito, okay? hehehe. throughout the night by the way, i was busy texting
rachel
to fill her in with what's happening.
erwin and joy are supposed to bring me home after the dinner and the movie but out of moral support, we went ahead pa rin with
gracie
when she suggested to treat
mike
(and larry, i suppose) for coffee. ang bruha, of all places within the malate strip, sa blue wave pa gusto. i was actually hesitant na to go but heck, sige, suportahan si
gracie
, so off we went. siyempre it's a friday night, and i just don't see nga why people would flock a place na nasa kalagitnaan ng macapagal avenue (boulevard, whatever!). the place was so full so we thought of a less busy place, and ended up at the newly-opened resto strip beside CCP.
on the way there from blue wave,
sandy
asked me to join
gracie
,
mike
and larry in the car at doon naman sya kina erwin and joy makikiride. when we were at the car, well, i let gracie na lang have her moment. hehe. then i told
rach
what was happening na then she texted something that sure cracked me up, wala lang ako mapagkuwentuhan! basta it involved gushing blood, in its figurative sense. riot tlaga. the guys were asking the name of the structures we were passing by.
gracie
was really kinda tense. example:
mike:
oh, so is that a hotel? (points to the hotel)
gracie:
yeah. it's the westin philippine plaza.
*toink! syempre, ang laki-laki nung name ng westin no!*
mike:
and what's beside the hotel (manila film center-- or amazing philippine theater na ata)?
gracie:
uhm...senate. is it the philippine senate?
judie:
NO! (syempre, i should know! bwahahahaha!!!) that's the manila film center.
gracie:
oh yeah, the film center.
:)
over coffee and strawberry frosts, we got to talk, all 7 of us, about a lot of things, from larry's seafood allergy to having kids. i didn't see it but later that night, joy was making kuwento how
gracie
almost dropped her drink when
mike
said that he has a vietnamese girlfriend. what's funnier was when larry, who's beside her, asked, "are you okay?"
gracie
said yes and asked what made him think she's not. then larry imitated how her drink almost got off her grasp! huling huli, hahahaha!
for my part, it was a good night and
mike
suggested we should do it more often. when his girlfriend comes over, dapat daw we'd go out for dinner, tapos lahat kami tumingin kay gracie! hahahaha!!! sure, it's really nice having to go out after a while. i hope those who weren't able to come could do so next time. balita ko next friday nga ata yun eh. hehe.
so to
rachel
, i tried to be so subtle all night, kaya ito lang yung the best na nakuha ko (at i dunno if there were pics din with
mike'
s phone coz both of us we're trying to figure out for so long paano iaactivate yung bluetooth ng fone nya iniinsist nya na meron eh mukhang wala naman)...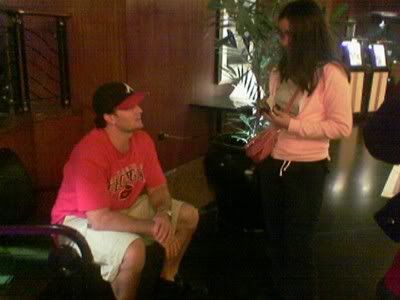 till next time. habang wala pang wedding band,

gracie

, it's not too late. hehe. atsaka he has a rather good love story to tell, i dunno if you heard it when he was making kuwento. si

E

tlaga minsan pede na pampalit kay oprah eh. i enjoyed it, it's the first time i actually went with you on a night-out kahit matagal na tayong officemates :) looking forward to more of it :) mwah!