anything but banana leaf 2
this week is so fast ha. tita beth is absent today, i hope she gets well tomorrow...i might not last being in-charge, hahahaha!!! pero i'm coping...we're coping. i'm not the dictatorial type of leader naman, and so is tita beth, pero syempre yung level ng respect kay tita beth mas mataas, hehe. and with me, they can do whatever they want basta they deliver the goods. i know it's not good in the long run, with all the "you have to be in control" managerial crap dito ngayon, pero it may just be a glimpse of the kind of leader that i will be-- in case i decide to take the plunge in december. i told eiselle that if i am asked as of this moment, i would definitely say no. but anything can happen. yung ibang mga bagay na akala ko hindi ko kaya, it turned out capable pala akong gawin. bukod lang doon sa glitch ng perpetual climb and grade increases, personal conviction and emotional preparation lang ang pinakakailangan ko. pero teka, maaga pa para jan. anong petsa pa lang. hihihihi.
my spanish classes are going smoothly pero don't expect me to start conversing in spanish; mas okay ako sa reading. ewan ko ba.
anyway, this is titled anything but banana leaf kasi my friends discovered my aversion for banana leaf curry house. hindi naman as a whole and wala naman akong unfortunate incident doon...kaya lang yung branch nila across our office closed shop...eh kasi di masyadong patok eh. as for me, hindi ko lang trip yung malaysian at thai cuisines eh. basta. kaya ayun, last saturday, when they asked me kung saan, sabi ko anywhere wag lang dun (so mali pala yung title ko no--well, pede na rin, tipong, "i would eat anything but banana leaf's food, pwede na yun).
here are some other pics na hindi tlaga ako nahihiyang i-share,hahahaha!!!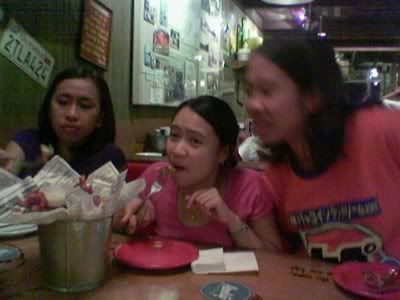 during dinner, si lynds, ciara and tzai na parang ghost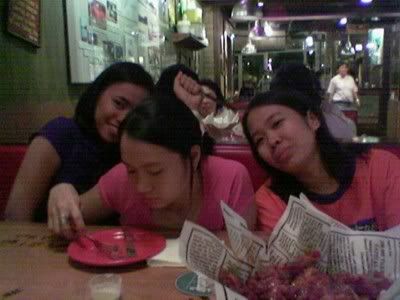 si ciara deadma talaga, basta kakain lang siya habang lumalabas ang deepest hidden urge ni lynds na i-subject sa torture si tzai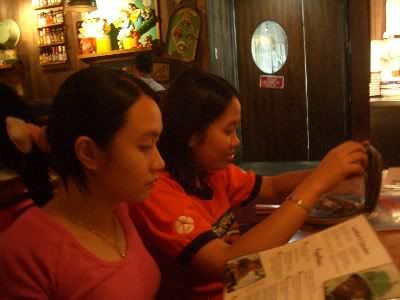 ciara and tzai. kunwari serious.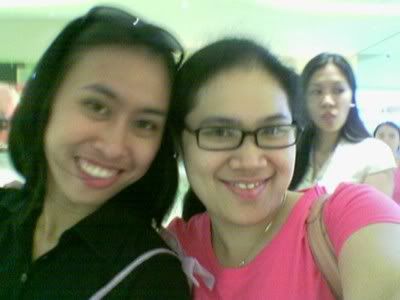 lynds and me. hulaan nyo kung ano nasa isip ni neds.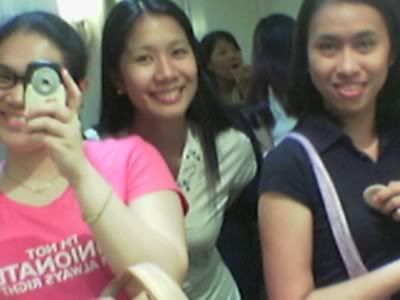 believe it or not, sa restroom ito. whores. hihihi.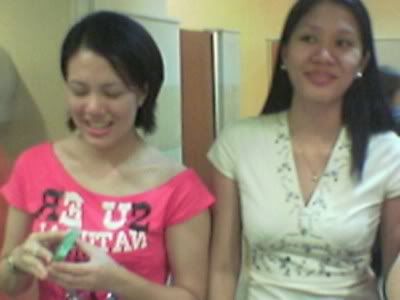 em and neds. random talk.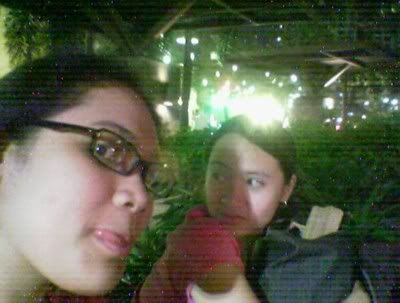 me and ciara while killing time in a coffee shop. ang halay naman, parang may hidden desire ako kay ciara. yuckers.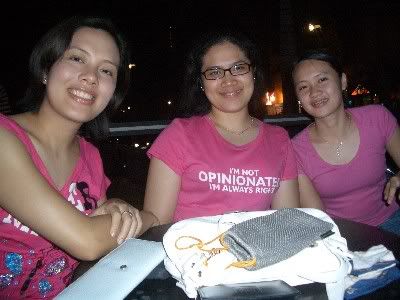 ang mga nakapink. uso ba tlaga?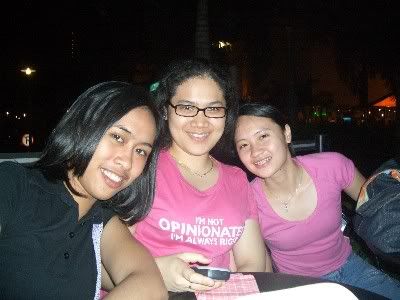 whoring pa rin.
i've never frequented greenbelt on saturday nights. i go there pero i hardly notice people the way i did last saturday. in truth, wala namang masama magporma di ba, tsaka you really have to at least dress presentably pag lalabas ka at yung pupuntahan mo eh crowded din. kaya lang, yung presentable at comfort eh subjective. minsan naman dinedeny na lang tlaga. sa dinami dami ng tao that particular night, most of what i saw eh parang nakikiuso lang kahit hirap na hirap na lumakad. ewan ko ba. kami namang 6, we're simply in jeans and blouses, okay naman. hindi naman sa i didn't feel i belong..it was them na sa tingin ko eh hindi bagay doon. imagine naman, magkakape ka lang o magce-crepe para ka pang pupunta sa fashion show. kada sip ng kape at kada subo ng crepe, kelangan mag-retouch. hay naku.
ang aliw pa, i saw people there na as far back as high school grad ko pa ata huling nakita. maliit lang tlaga ang mundo :) . pero masarap din naman yun, paminsan-minsan, you look back kasi that's the only way lang to see how far you've gone. it's worth smiling about, knowing where your friends are now. kahit yung iba parang hindi na nakakaalala, okay pa din to know, at the very least, na buhay pa pala sila.
i hope that a few years from now, i can still look back and smile like this. after all, i have more people, places, things and events to remember.
tulad nito: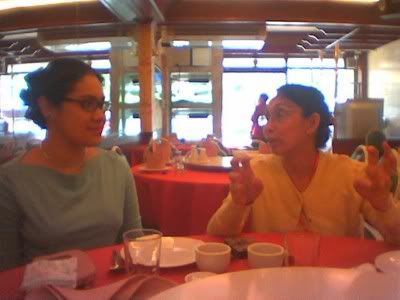 my boss and i having a moment nung nagtreat si sandy in this new seafood resto along UN avenue. namaster ko na ang art ng kunyaring nakikinig. hahaha, joke lang po!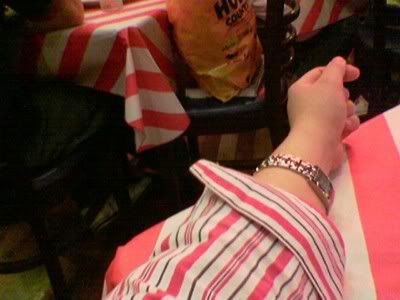 valentine's date namin ni mommy. kaya siguro ako na-lure kumain doon eh may plan pala to humiliate me kasi kakulay ng damit ko yung tablecloth. gah.
nakabackpack ako ng ganyan sa airport sa minneapolis. wala lang. kasi slingback bag yan na laman yung mga books na nabili ko sa borders. may nabili din akong singing tigger na ayoko isiksik sa maleta kaya ayan...para hindi madeform, nilabas ko yung ulo. ingenuity ang tawag dyan. hahahaha!!! kaya walang naniniwala sa purpose ng trip ko eh.
hay. i wish ganito lang lagi.