strike
yuppity yup, may transport strike today. feeling socially relevant ang mga kapitbahay naming drivers kaya ayun, tambay sila maghapon dito sa chromium street. i dunno if they talked about the impact of what they did today, o napagtanto man lang ang cause na ipinaglalaban nila. siguro naman. sana naman.
i was late for work dahil...tanaaaan...sunday night pa lang my mom told me wag na daw ako pumasok. grabe, parang bata ako... tipong ayaw papasukin kasi umuulan. hahahaha! lately, my mom has consistently been paranoid when i go out of the house; she consulted her doctor last sunday and she was told na *beep beep* that's how women in their pre-menopausal stage feel. we've been arguing about it na wag na sya masyado mag-worry. minsan tuloy, naipaliwanag ko na sa kanya yung power of suggestion. like the more she thinks that something bad will happen to me, lalo lang nyang iniinvite yung idea na baka magkatotoo kakaisip nya. i do not hold my fate pero i've been prayerful naman atsaka i'm not the type who would do something nasty (hmmm). it's not actually a matter of my mom's trust...she trusts me but not my environment. eh ang labo nun, pwede ba akong nakakulong 'no...hay..so you see, i digress.
one of my mom's countless "fears" eh baka manggulo daw yung makakakita ng transport vehicles na hindi sasama sa strike. she even specifically told me na baka daw may bumato na lang at tamaan ako sa ulo. how morbid can she get? pero nanaig ang kahihiyan at konting maturity kaya i rushed to the office kahit (get this) 6:45 a.m. na ako nagising. at 10 minutes lang akong late...that's a super feat.
and man, the day has been so boring. kahit E gave me the hair wax, i ate choco popballs, i got a call that really made me smile...iba pa rin. kainis. i barely touched my workload. bleh, tomorrow na lang. tsk. plus, i'm still getting used to our new file cabinets. it made our department "darker". see, those cabinets are looming over the cubicle dividers, something that we have successfully adjusted with, per State Department regulations na rin (bawal ang divider na sobrang mataas, baka daw maraming milagrong gawin- hehe). after i went to the main office nga, i blurted, "they're so tall!" at ewan ko why E and lalaine suddenly laughed.
let me just confess, out of guilt...most of my calls today eh i directed to the recording. excellent customer service. kasi naman...i like that hotel general manager ha, he's been nice and not so proud of who he is, pero nakukulitan ako sa kanya. i'm so mean. pag nalaman nya ako yun i may not be able to step inside *insert hotel's name* (clue, malapit sya sa senate--haha, giveaway!). nakakatamad kasi. darn, i'm a real model employee!!!!!!!!!!!
so now, i deliberately missed tru calling again and i'm waiting to doze off anytime. grabe, this is one of those "lutang" days.
>> i wanna apologize to someone for an email reply that i never thought would hurt him (eh joke naman kasi yun, at lahat naman ng nakabasa eh natawa, ewan ko ba).
>> i wanna know what has happened to this person so this other person will stop bugging me every night
>> i wanna see thea marie. my officemates know why. gusto kasi naming...uhm...mag-commercial models. hahahahaha!!!!!
>> i wanna order this customized shirt from my friend. it will be printed with FUTURE FIRST LADY. weehee. spell pathetic?
>> i wanna hear this person's voice again. it's been a while since i got an entry-level intellectual stimulation from someone of the opposite sex. i may need to hone it anew, hindi naman ako ganito kababaw dati.
>> i want to have another cat. i will name her MICHIFU. my spanish 1 classmates would know why.
hay, finally i'm sleepy. two weekend pics lang: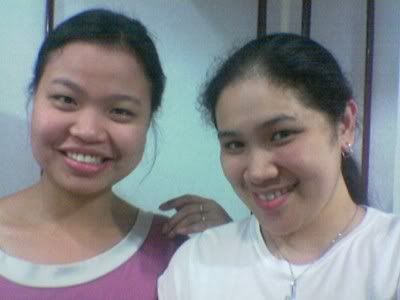 THE accountant Ariane. I so miss this girl! Eto ang kadramahan ko nung highschool. She told me this "urban legend" back in sophomore high that still gave us a laughing fit when we talked about it last Friday. It's been six years since we saw each other. Super demure na ang gaga, sarap sabunutan, hahaha!!! It's been a hell week for her because of the tax deadline. I was so impressed with her and her disposition. I dunno bakit ako hindi nasasagi sa isip ko yung mga ganun. Ang babaw ko siguro tlaga. We promised to see each other more often and I can't wait to go resto hopping with her. Eater ata kami pareho. Imagine, tiniis kong hindi makitang nagpapatawa at sumasayaw sa Wazzup Wazzup si Mar Roxas dahil ka-dinner ko sya, ang future "partner" ng SGV *wide grin*. Ganyan ako magmahal. Hahahaha!!! Isip ko na lang makikita ko din si Mar mag-dance ulit...this time yung Chupetta (sp?) naman.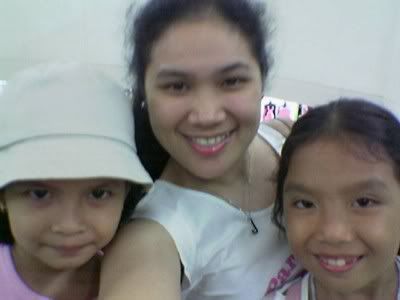 My nieces Julienne and Pia. Buti pa pag bata, pag pumasok na ang summer, nagbibilang na ng resorts na napupuntahan...pag matanda ka na, lumilipas lang ang summer ng ganun-ganon na lang. Super inggit ako nung nagkukuwento sila sa akin. Harumph. The girl on my right, Pia, was the one who believed that Piolo is my ex, and Mar is my current squeeze. Hahahaha!!! Masamang halimbawa ako 'no?
*hohum*