MAR

. And this is a long post.

Mention Mar Roxas and all the people in my immediate circle will associate it with me. Tipong,
"O, Mar daw"
comments from my officemates. Like my long hair which has been my identity for as long as I can remember, magtu-two years na ata dito sa office na akala nila I breathe Mar Roxas. Hindi ko na lang kino-correct yung notion kasi naku, gugulo pa ang paliwanagan. Besides, he won't know about it. Huwahaha.
But I'm not crazed and obsessed with him naman, 'no? Hello. If you ask me how this Mar fascination started, secret na lang but one thing I assure you is that this is nothing serious. I'm glad that of all people, si Joy Salvador pa nag-confirm sa akin na hindi sya naniniwala dun. Yes, even with all my remarks na,
"Pag First Lady na ako ng Pilipinas, I won't forget all of you, promise!"
o di kaya,
"If we need to go (somewhere), don't worry, may chopper si Mar!"
Hehe.
It's easy naman to like Mar Roxas. Even with his wealth and popularity, he does not exude that aura na mayabang or anything along that line. Maybe it's because of his looks. Hindi yung typical haciendero aura na mestizo. Plus, he really has something substantial between his ears. Madami kasing
"mabuti na lang mayaman ka, kung hindi kawawa ka naman"
o yung
"okay ka na sana kaso nagsalita ka pa eh"
. I've always viewed Mar as someone who's hardworking and dedicated. Tsaka popular na naman sya not just because he ran and na-link kay Korina Sanchez. In fact, ayaw lang maniwala nina
Patty
sa akin but before, Mar had this (funny) ad for DTI na may housewife nagsoli nung defective na plancha eh ayaw i-accept kasi may "No Return, No Exchange" policy daw, then labas si Mar explaining the law dun sa housewife. True, may ganun tlaga! Ang problema ko lang wala akong mahanap na makapag-prove nun eh...pero I swear, meron yon! Pati yung San Miguel ad before na may super annoying na mama whose life got better kasi apart from his day job, nag-dealer din sila ng San Miguel beer...ang end din nun si Mar may line pang,
"Sulong, enterprising Pinoy!"
Siguro naman yun meron ng nakakaremember 'no? Feeling ko tuloy slave ako ng TV kaya I see a lot of ads na parang ako lang pinagpakitaan. Mar, help me please!
Anyway, with that, I feel nga may secret aspirations si Mar maging artista. Not really an artista pero yung lumalabas on-cam. Wala lang, feeling ko lang pag pinalabas mo sya sa Comedy Central type of shows eh papayag sya kahit walang talent fee. And you can see it in him na hindi OA yung dating to click with the masa; as in you can see that he really likes throwing punchlines. One of the very few I remember was during Korina's birthday na serious naman yung tanong ni Willie Revillame, humirit sya ng,
"Willie, sinasagot ko yung mga tanong mo kasi naka-shine ang sapatos mo ngayon."
Also, I have not watched it lang but based on some chika, super gulo din nila sa Strictly Politics nina Kiko and Noynoy last January.
Pero TV and still pictures do not do him justice. Like, if you have not seen him in person, would you say na guwapo sya? Di ba parang, uhh..he's presentable pero hindi yung tlagang you would swoon. But when I saw him in the flesh last November, parang, oh mayn, sana wala na lang si Korina sa mundo baka sakaling maging kami pa! Hahahahaha!!!! And when he started to speak, it got even better! Di nga ako naka-react eh. Ako pa ha! Ako, who speaks 200 words per minute. When Tita Ditos was telling me if I want to ask him anything, mga for a few minutes puro
"Uhhm...uhh..uhm..."
lang nasabi ko. Buti na lang nabanggit ko si Korina, one of his favorite subjects. Pero darn, you know, ang dami ko gusto itanong sa kanya nun ha, serious stuff and otherwise. Among the many eh yung,
"Ilan ba ang blue polo mo?"
tsaka yung,
"Mr. Palengke, napanood mo na ba yung 'Tinimbang Ka Ngunit Kulang'?"
Siguro dahil yun dun sa coffee na pinainom sa akin habang we're waiting for him. Medyo matapang. Hehe. Parang baligtad tuloy naging effect sa akin.
Even if that was the end of a very long day, he's so warm na walang halong kaplastican. Ewan ko lang ha, pero I would know it naman kung napipilitan lang sya. Dapat short visit lang eh napakwento na kasi baligtad, sya yung nag-ask ng nag-ask ng questions. And I've mentioned na he has clean shoes, haven't I? Haha, yeah, as in parang bago. While ako, pagtingin ko sa shoes ko that night parang pinanlakad sa Gobi desert. Weno ba, senador ba ako? And he has large feet ha. Hmmm.
At any rate, Mar has my support in case he wants to run for a higher post in 2010. I was about to tell him nung bye bye time na that night na,
"Continue doing good in the Senate"
pero, yun nga, wala. I hate it when I get mesmerized. The last time I was like that, I almost got ran over by a throng of people. Noon yung nakita ko si Richard Gomez sa isang mall at the peak of his matinee idol days and I was this 8-year-old kid na naghihintay ng Mom nya sa labas ng fitting room. Bleh.
Mar deserves to be our country's President. Maybe in 2010, maybe in 2016. Minsan lang, I'm having second thoughts if his intellect, hardwork and passion alone would suffice. I regard him as a squeaky clean person, though I do not say that he is perfect, but it takes a strong stomach to endure being the highest leader of the land. The way he regards his privacy too much, to the point of losing his temper at one time during the senatorial campaign, is something he should think about before plunging deeper to the mudpit. Irrelevant concerns or not, he has to be more patient and tolerant of questions thrown his way, in case he wants to pursue the path. Many say he will have an easy time with that presidential climb especially if he ends up with Korina, who, ironically, is one who is still too mysterious despite being on TV forever.
(And what I feel about Korina is a different story. I regard her as someone who really deflates every females' self-esteem and crushes every man's balls but it was refreshing to see her blush, giggle or kiss a shirt on national TV all because of love. Kahit pa si Mar yun (hmph). Noting the
last part of this previous post
,
this one
,
and this one too
, and the way I struggled to be the first paying customer to have People Asia's July 2004 issue, it shows naman na okay si Korina sa akin. Super. Hehe.)
But it's still early to think of that. Mukha namang consistent sya sa pagiging number 1 in terms of senatorial performance so let it speak for what his fate would be in the next few years.
I am just waiting for the time when I can look back and just smile kasi at one point I had this fascination with Mar Roxas. At least, worthwhile naman itong period na ito in my life kasi I am learning a lot.Like, I know ano ang palengkenomics, something that you do not discover kung isang trying hard na artista ang pinag-aaksayahan mo ng time. Kung dati wala akong pakialam sa mga semento, ngayon I can say something about safeguard measures sa imported cement prices without thinking of a brand ng bath soap. Yung mga ganun. And oh, these two images will make me smile even more in the future: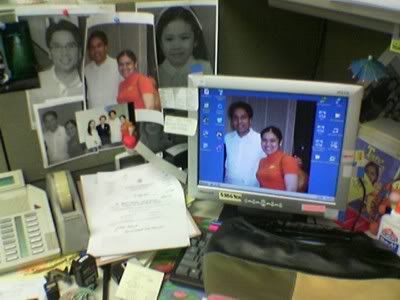 Eek! Halata bang gusto kong i-display yung picture naming dalawa? I hate myself in that pic eh (oo, one shot lang yan), ang jologs, akalain mong may bag pa ako! Fan na fan, grrr!!!! Anyway, see that? Compare my workstation to Korina's. Parang mas marami pa kaming pic together na naka-display. Iisa nga lang yung pose nung akin pero astig di ba?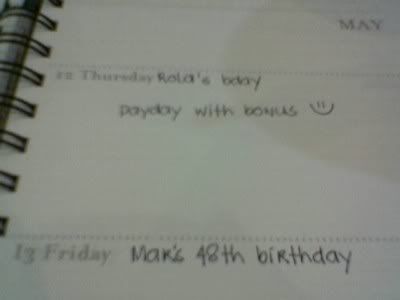 A page in my planner. Excited ako sa mid-year bonus ko pero below that, shucks, Friday the 13th pala birthday ni Mar. May bet nga kami eh, if I can call Mar on that day and I get to greet him Happy Birthday, all-i-can-take Haagen-Dazs (or kahit Dippin' Dots) will be my prize! See, parang ginawang pustahan yung birthday nya. Teehee.
By the way, thanks to my friend Rayan (na walang problem sa discount ha, puwes...), who asked me casually if I can blog about Mar. Naku, if I know, he just wants to see his name sa world wide web. O sige na nga, eto:
RAYAN MARTY
RAYAN MARTY
RAYAN MARTY
RAYAN MARTY
RAYAN MARTY
RAYAN MARTY
RAYAN MARTY
O ayan, when you Google your name, may hit na yan siguro!
If fate would allow that Mar reads this post, I just want to ask for one thing: PLEASE CONFIRM THAT YOU HAD THAT DTI COMMERCIAL INVOLVING THE DEFECTIVE FLAT IRON (OR IT GOT ME THINKING, WAS IT AN ELECTRIC THERMOS OR A RICE COOKER?) AND THE "NO RETURN, NO EXCHANGE" THINGIE? PEOPLE REALLY THINK THAT IT'S JUST A FIGMENT OF MY IMAGINATION. IT'S NOT, DI BA?
Comments?
Here na lang.